When you run a business, everyday inconveniences are a fact of life. However, your security system doesn't have to be one of them.

In fact, a modern security system can help your business become smarter, more secure and more efficient.

Alarm.com for Business is a tough, multitasking, commercial-grade solution geared to the needs of small and medium businesses. Professionally installed, monitored and supported, it offers smart security, video surveillance, access control and smart thermostats in a single solution that you can operate with your phone.

If you run a business and like the sound of better security, more control, less inconvenience, less waste, and the ability to see what's happening at work, anytime, Alarm.com for Business is for you.

1: It's Always on Duty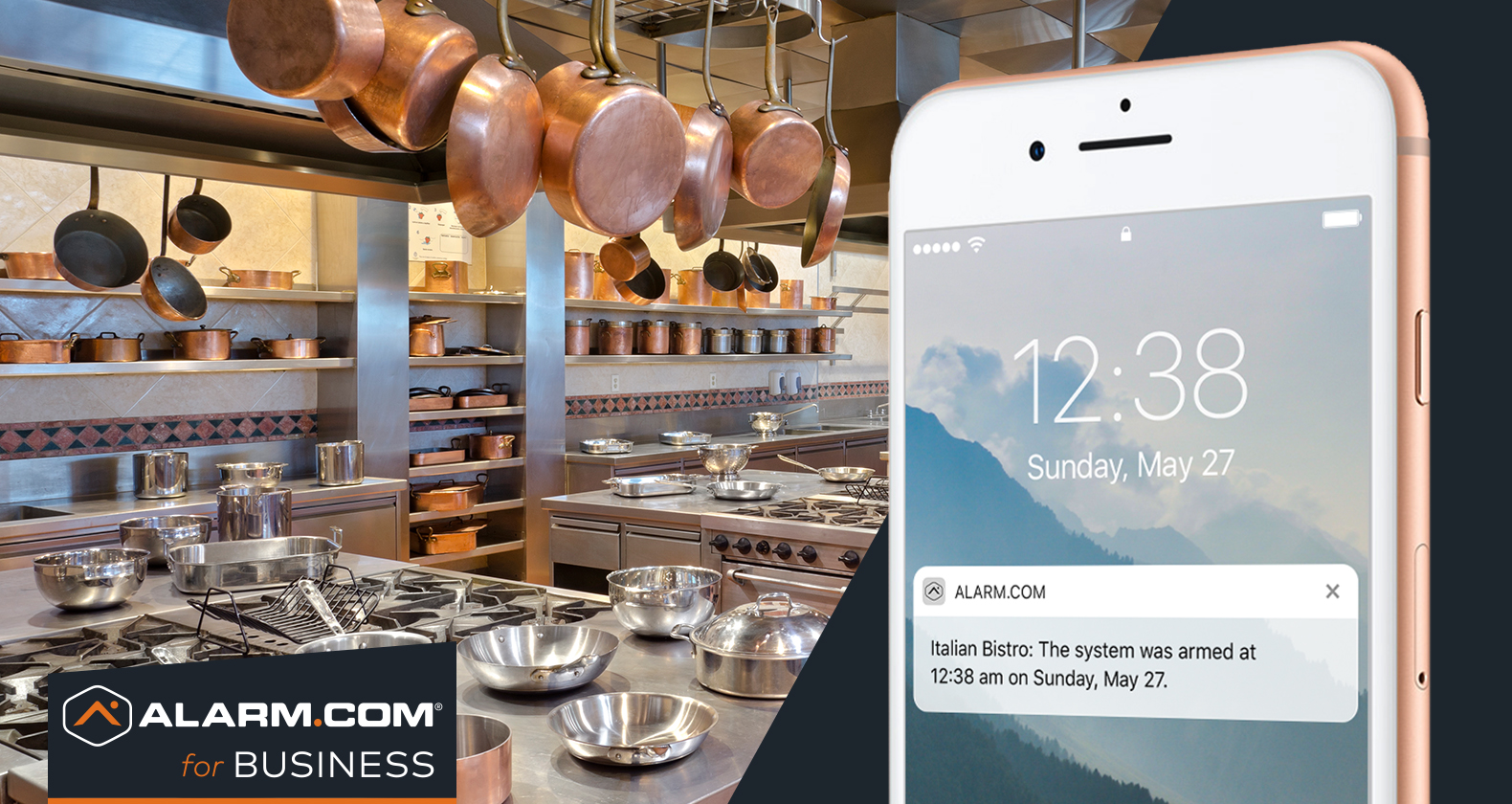 Old security systems are good at responding to burglaries. Unfortunately, that's all they do.

A smart business security system is always active, with sensors and intelligence that work 24/7. It alerts you about important or suspicious activity, or if you forget to turn the alarm on. It can even arm itself and lock the business at closing time.

While best-in-class emergency protection is always part of the package, Alarm.com for Business also prevents problems before they escalate into emergencies.

2: You're Always in Control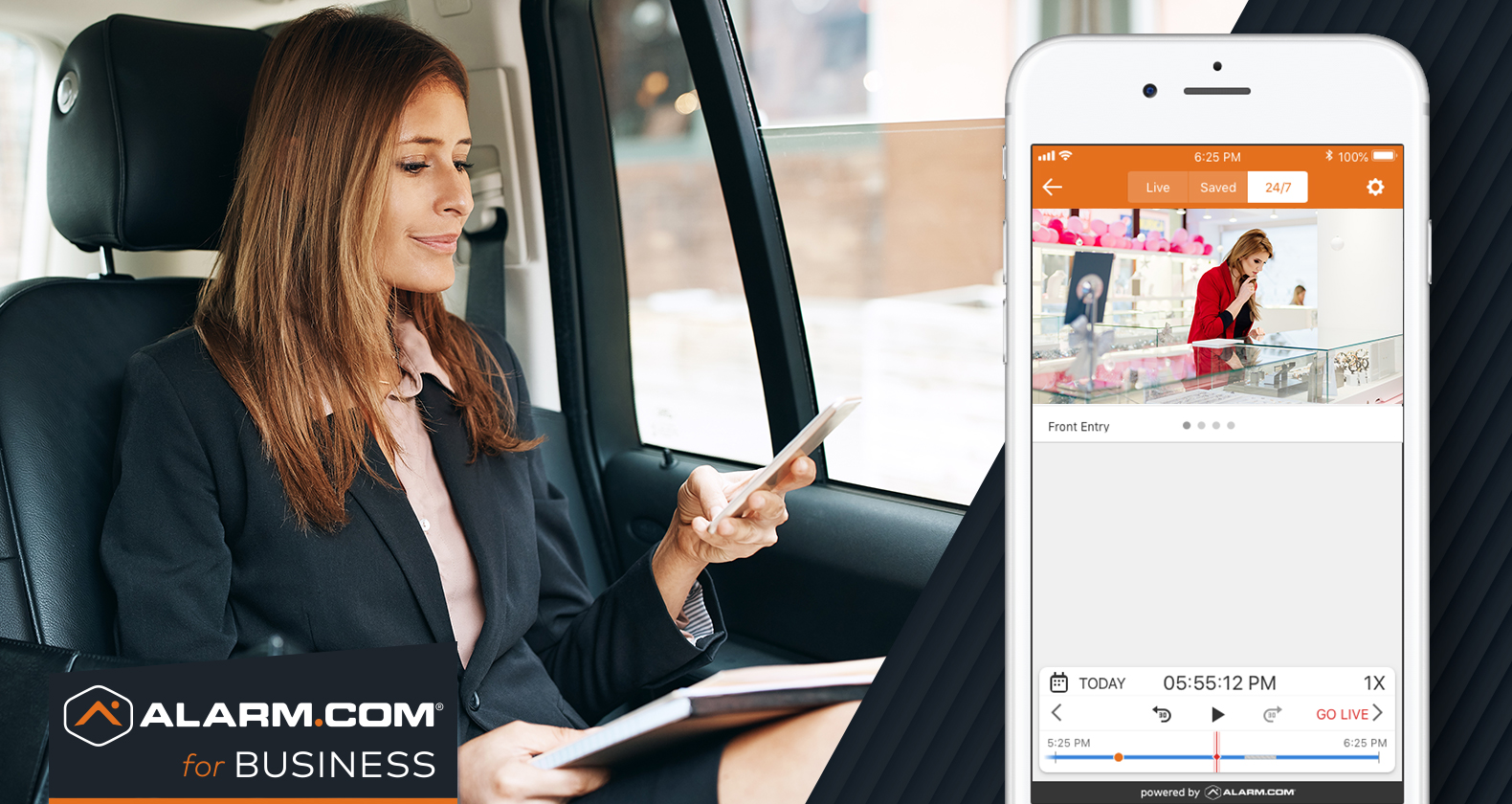 To control an old security system, you stand in front of it and push the buttons. To control Alarm.com for Business, you can stand anywhere and use our top-rated smartphone app.
You can turn your alarm on or off from outside. No more 'doorway dash' for you! Your app can lock and unlock doors remotely, show you a live video feed of what's happening at work, and even adjust the temperature. It doesn't matter if you're on-site, at home, or travelling—you're always in control.
Got more than one business location? No problem: Alarm.com for Business makes it easy to see and control them all.
3: Smart Video Surveillance Keeps You in the Know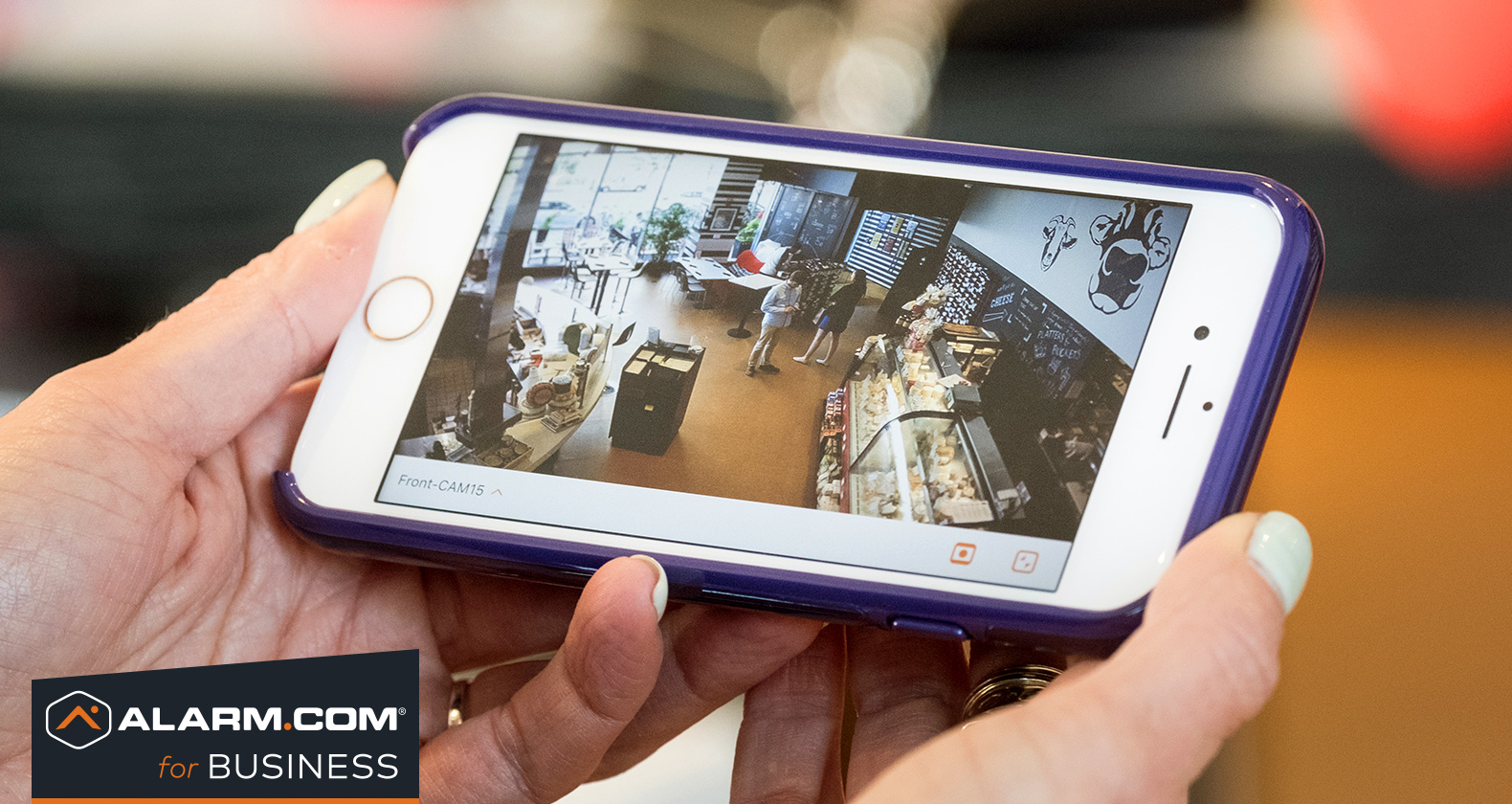 Alarm.com's fully-integrated video surveillance makes it easy to see and capture important activity with video alerts, live feeds and 24/7 digital video recording—all easily viewed from your Alarm.com app.
Unlike a standalone video solution, Alarm.com uses intelligence from your security and access systems to understand different types of activity. Want a video clip of the front door when your manager unlocks it in the morning, but not every time a customer walks in? No problem: Alarm.com knows the difference.
Our service providers carry a full suite of commercial security cameras, including indoor and outdoor cameras with full HD resolution and night vision.
4: Smarter Access Control Makes Access Secure and Simple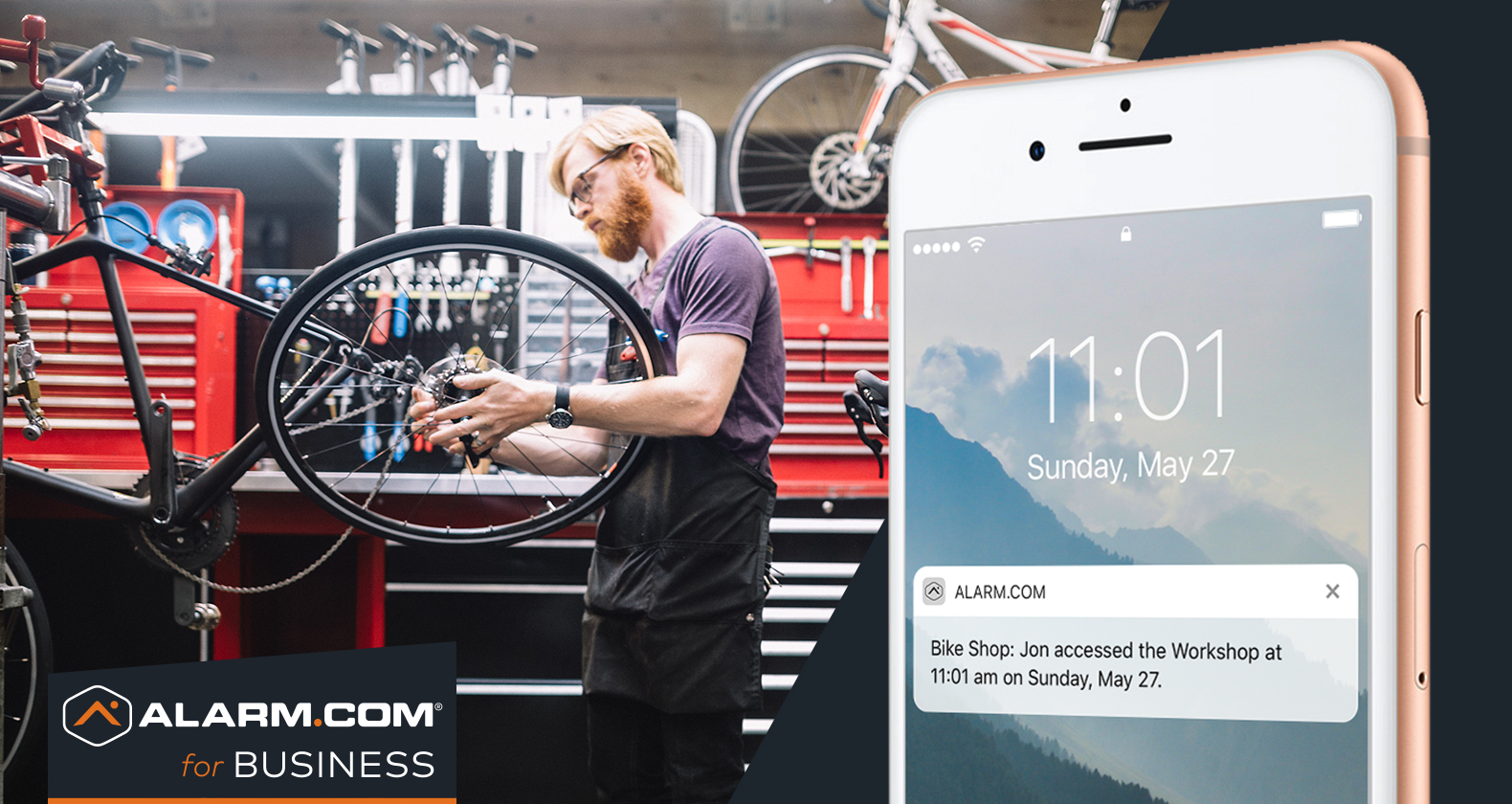 From single stores to entire office buildings, we make it straightforward to give your employees secure, keyless entry while preventing unauthorized access to your premises, inventory and assets.
Our smart access control solution gives you the ability to remotely lock and unlock doors, set up (and remove) employee access with keycards or user codes, and create customized access schedules and permission levels for different employees.
It's all controlled through the Alarm.com dashboard and fully integrated with your other solutions, enabling you to automate your door locks, get alerts when your business opens and closes, and quickly find video clips of important or suspicious access events.
5: Smart Thermostats Protect Energy Bills and Inventory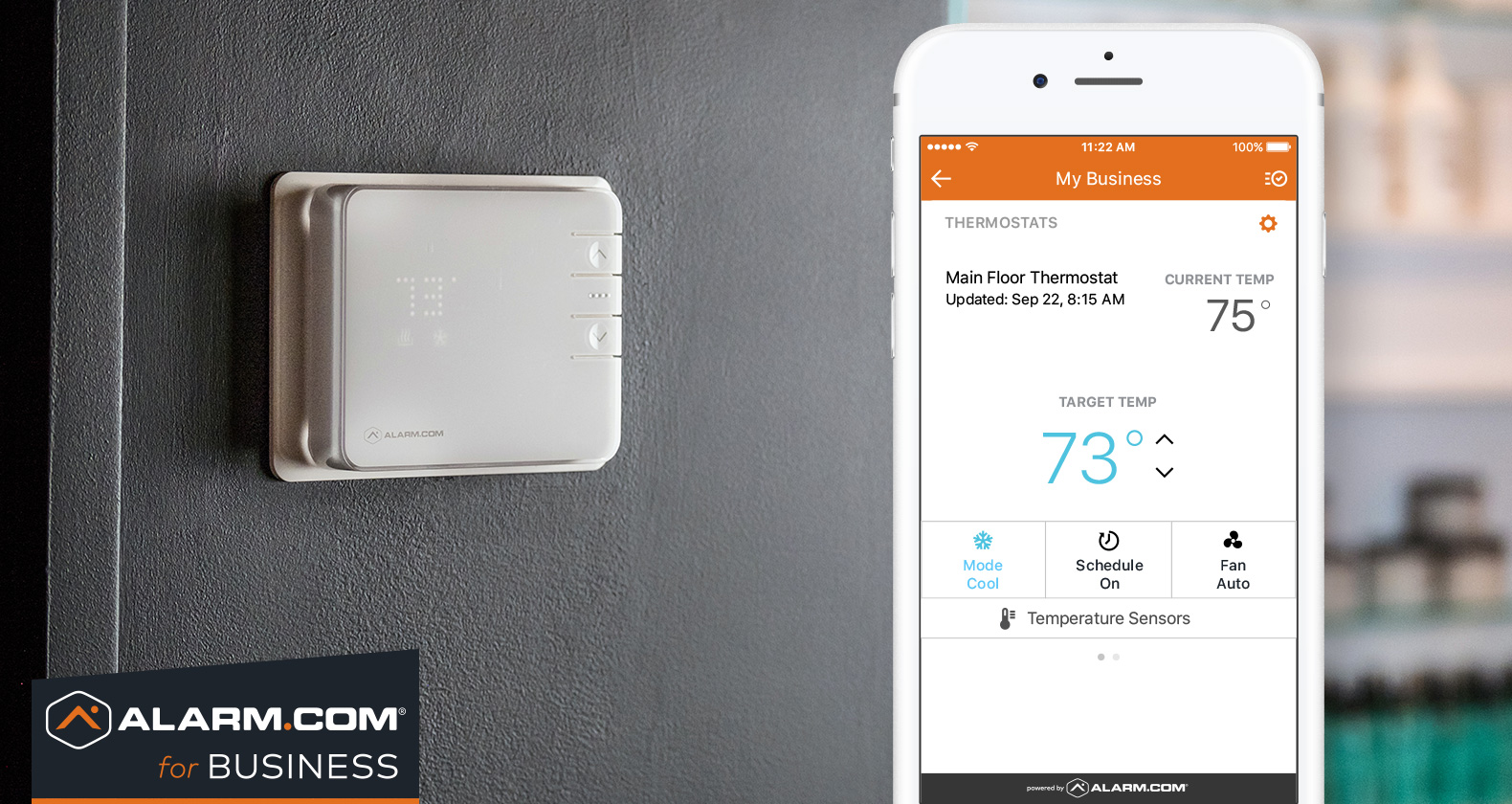 A security system that saves energy? That's smart. With Alarm.com, you can upgrade your HVAC system with smart thermostats that give you automatic savings, remote temperature control and more.
Easily controlled from anywhere with your Alarm.com for Business app, our smart thermostats also offer easy scheduling, local locking, or custom restrictions that let employees manually adjust the temperature within a pre-set range.
Like our video and access solutions, Alarm.com smart thermostats understand activity and act on your behalf. When you lock up at the end of the day, your thermostat can recognize that you're closing, and set itself back to save energy. If you have inventory that needs to stay cool, you can even guard the area with an Alarm.com temperature sensor that alerts you if things get too warm.
6: One Smart Solution: Many Sources of ROI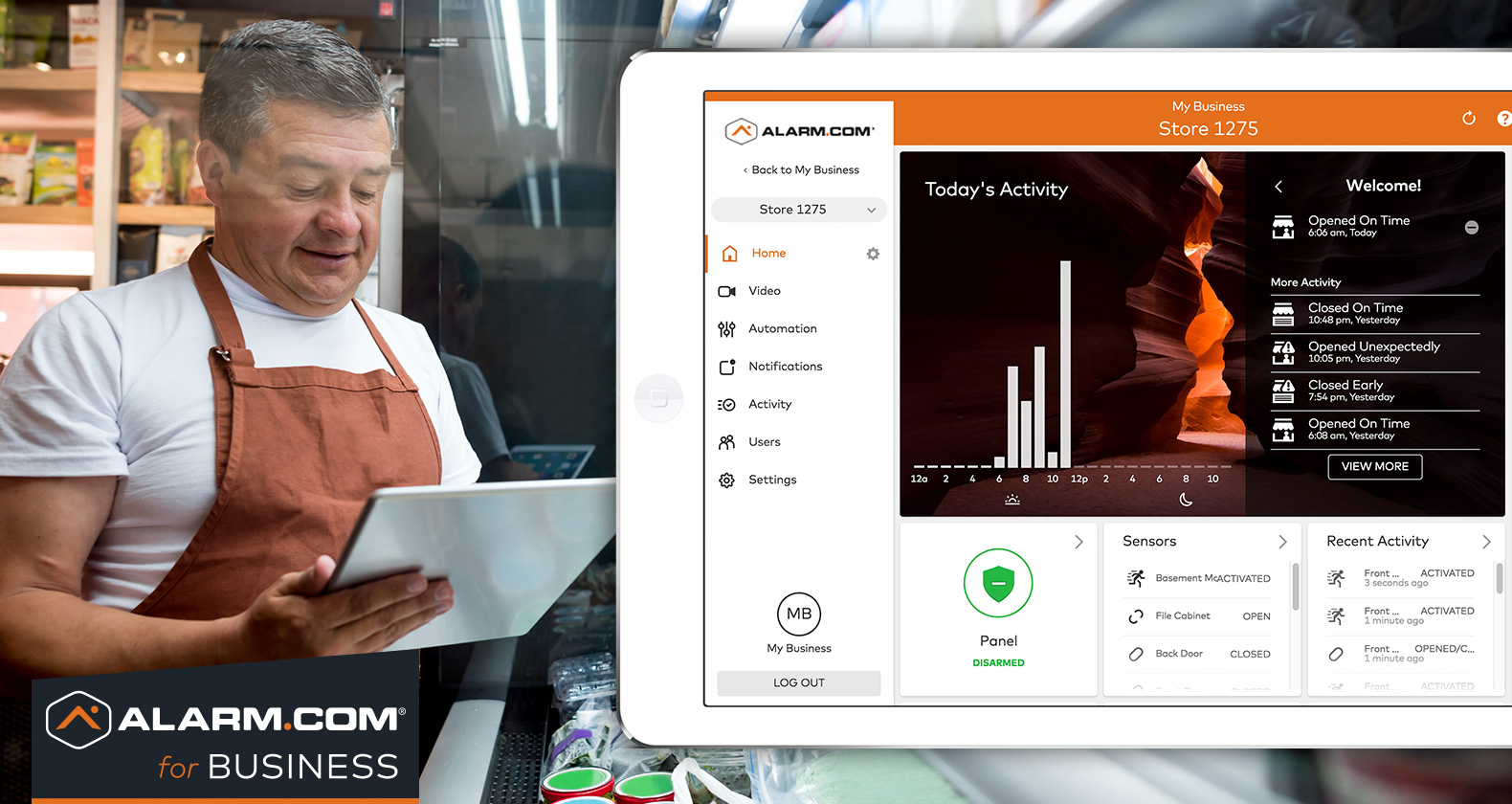 With best-in-class protection, intuitive controls, and four solutions in one with minimal hardware onsite, this is a business security solution that gives you better protection, extra convenience and control, and more value every day.
With a single local service provider to install, configure and support everything, getting started with Alarm.com for Business is easy. Just contact Chris Rhodes by call or text at (573) 238-5210 or e-mail at chris@technology-one.com for a free off-site estimate.  We'll use google earth to evaluate your property and give you an idea what the cost would be.  If you're interested then we'll set up a meeting and get more specific with no pressure.  Upgrade your current system now!